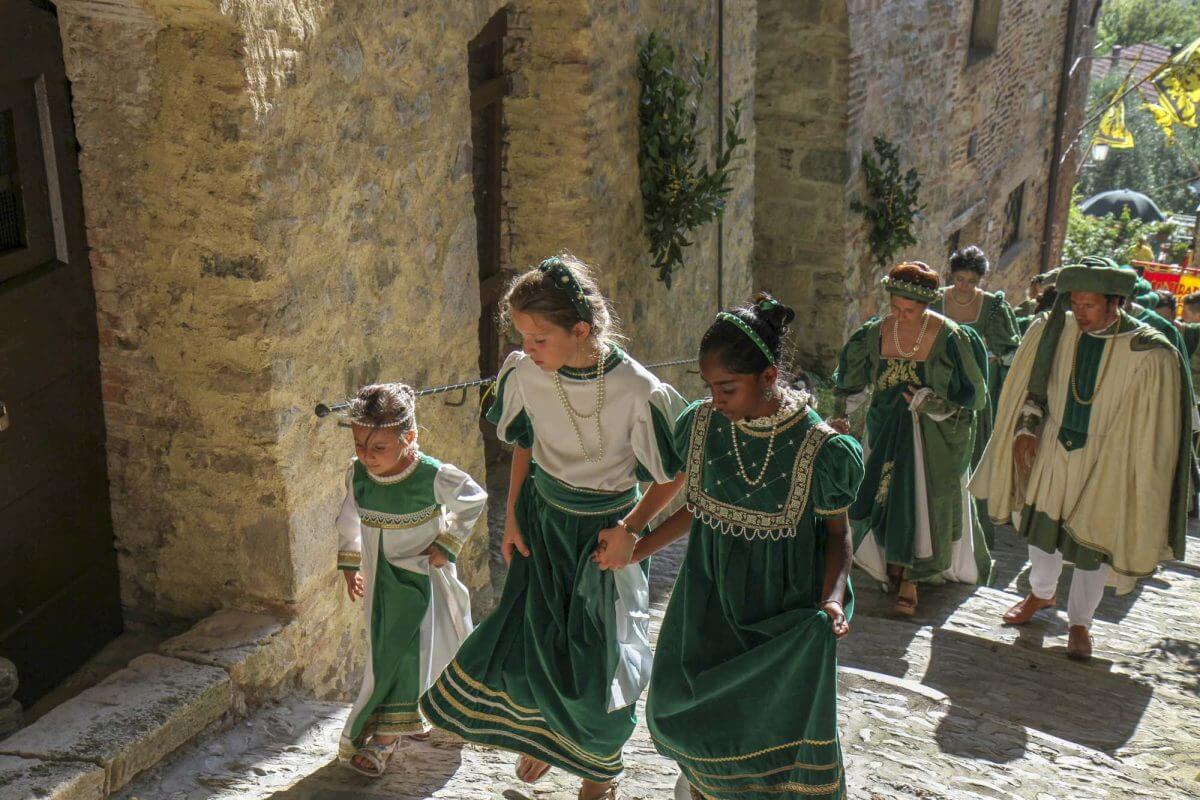 San Casciano dei Bagni is located in an area where man settled there from the beginning, as evidenced by remains dating back to around 50,000 years ago that can still be seen today in Belverde on Monte Cetona.
The Etruscans, from the then powerful city of Chiusi (Clusum), were the first to exploit the thermal waters of the area. Later the Romans also benefited from the beneficial effects, especially illustrious figures such as Triaria, wife of Emperor Vitellio.
During the Lombard domination San Casciano is part of the territory of the city of Chiusi, close to the borders with the possessions of Orvieto. The parish church of Santa Maria "de Balneo" (the current small church of the Baths) is indicated as one of the early Christian churches of the diocese of Chiusi (IV-V century). The first written records date back to 995, the year in which Ugo, Marquis of Tuscany, donated the "curtis de Balneo" to the Abbey of San Salvatore, on Monte Amiata. And in 1081 for the first time the name of "San Cassiano" appears in a lawsuit that the monks of the Abbey expose to the emperor Henry IV against the Aldobrandeschi family.
From 1150 to 1400, San Casciano is part of the possessions of the Viscounts of Campiglia di Orcia, and is involved in the war that broke out between Siena and Orvieto for the supremacy of the territory (1230-1235.
From 1386 the history of San Casciano dei Bagni is inextricably linked to that of Siena.After the submission to the Sienese Republic in the form of a formal capitulation, on June 15th, 1412, San Casciano and Siena stipulate a limited partnership (agreement) which provides for: the acceptance of a Sienese military garrison, obedience to a city judge, the offer of a prize of 12 gold florins for the feast of Santa Maria in August in exchange for protection from the city of Siena. In 1455 Jacopo Piccinino tried to attack the territory of San Casciano, but was repulsed by a strenuous defense, while in 1495 the captain of fortune Vitellozzo Vitelli, managed to storm the village by carrying out a brutal sacking.
Around 1550 the Venerable Arciconfraterniata of the S.S. Sacramento (still existing). San Casciano is always in defense of Siena even when, in 1555, the Spanish-Medici troops occupied the city, but was forced to capitulate when in 1559 also the last Sienese stronghold fell into the hands of the Florentines and thus became part of the Grand Duchy of Tuscany under Cosimo I of the doctors. In the new state it becomes a border station with the papal state – the current barracks of the carabineri represented the Customs -.The Grand Duke Ferdinando I in 1607 erected in the place where the source of the Ficoncella emerges, the arcade that will then become the symbol of our baths.
In 1859 San Casciano and the Grand Duchy of Tuscany became part of the Kingdom of Italy.